Manufactured in Italy the Camisa TP680 has been a successful mid-range high lift track barrow within the hire and construction trade for the last ten years
Lifting and tipping operation are all hydraulic
Maximum lift height 1700 mm
Maximum lift height when fully tilted 1500 mm
Maximum lift weight 800 Kg
Tip directly into a full size skip
or trailer, no need for ramps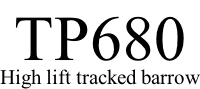 Overall dimensions: 2200 x 800 x 1100 mm.
Un-laden Weight: 560 Kg
Gross Capacity:
1000 Kg when lowered and tipping
Land Speed: 0 to 5 Km/h
800 Kg when lifting and tipping
Engines:
Honda GX390
Yanmar L100
Lombardini 15T
Lombardini LDW702
Ten years old and still in daily use in the hire trade
Hydrostatic transmission with joystick steering giving fingertip control for excellent safety and manoeuvrability
"Negative brakes": when you release the joystick, the machine immediately stops moving and the brakes are engaged
Maximum slope climb without load and the bucket in the down position is 35o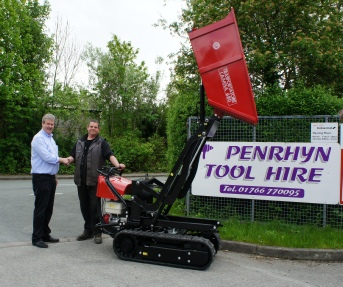 David Salt handing over a new Camisa TP680 to Richard Aitkinhead (director) Penrhyn Tool Hire, North Wales, Richard placed the order after discussions at the 2014 Executive Hire Show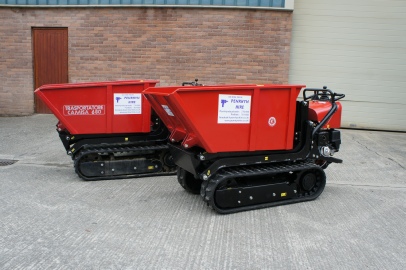 Penrhyn Tool Hire purchase their second TP680 Track Barrow (August 2014) so popular with their customers the decision was taken to take delivery of a second TP680 Track Barrow.
David is greeted by Massimo Camisa on his recent visit to the Camisa factory to inspect the up-dated TP580 tracked dumper, an order was placed and a TP580 will be available for inspection in the UK early August 2015.