September 2013
September started with a full day's visit to the Fratelli Camisa Track Barrow Factory situated in the beautiful mountain region south of Parma, Italy. www.fratellicamisa.it
David & Colleen were welcomed to the factory by Massimo Camisa and his charming wife Chiara who was the interpreter for the visit, with her perfect command of the English language.
The day was spent inspecting the production facilities where the Camisa TP680 high lift track barrow is produced. Slight modification have been made to the 2013 production machines to increase the load carrying capacity to 1000 Kg when the bucket is in the lowered position, the maximum weight when lifting remains the same at 800 Kg. Making the TP680 the narrowest track barrow with the largest capacity on the market., with the added ability to tip into a full sized skip.
The visit concluded with an inspection of the spares department where all the the items required to maintain Camisa machinery are available for immediate shipment to destinations throughout the world.
November 2013
This month we have signed to exhibit our range of Bannerman Professional Lawn Care Equipment at the Executive Hire Show held at the Ricoh Arena, Coventry CV6 6GE.
The Executive Hire Show takes place on the 12th & 13th February 2014.
Also on display will be the 2014 Garden Hire Spares catalogue, featuring a comprehensive range of genuine and replacement spares and consumables, everything you need for your engine & small plant workshop.
July 2013
Gordon Bannerman Ltd. Canadian manufacturer of Lawn and Sports Turf Machinery have appointed a new distributor for their full range of lawn and turf care equipment in the UK. Blade Machinery Limited, a new company set-up with the specific role to promote and distribute the full range of Bannerman machinery throughout the UK, and to maintain customer service and technical support to existing users of their within the UK.
Manufactured in their Rexdale, Ontario facility for nearly 50 years, the home of www.sportsturfmagic.com Gordon Bannerman Ltd. Aerators, Scarifiers and Top Dressers have been in use by many of the main national UK Lawn Treatment Franchises and Independent Lawn Care Professionals since 2000, proving to be a very reliable revenue earner.
February 2014
February 11th, and off we go to set-up our rather small show stand at the Executive Hire Show held at the Ricoh Arena, Coventry, UK.
February 12th, 9.00am the first day of the show, saw a steady stream of visitors to our stand many of whom where familiar faces, who had already bought and where hiring Bannerman equipment, plus a steady stream of new visitors interested in learning more about the merits of Bannerman machines, mainly for their hire outlets. Orders where taken for both the Scarifier and Top Dresser
February 13th, the second day of the show, again from a 9.00am start we where taking to customer at a steady rate.
Garden & Hire Spares Catalogue proved very popular, with 600 plus pages of Genuine and Replacement spare and consumables, visitor where reluctant to carry them around the show, but from 3.00pm on both show days visitors started to call in and collect their copy as they left the show.
The show was a resounding success, our first show for a new venture, plans have already been made for a larger stand at the 2015 event.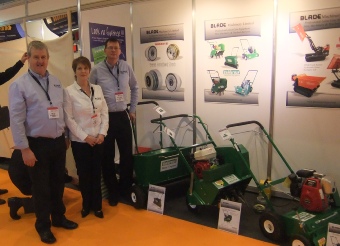 May 2014
May 14th saw the delivery of a Camisa TP680 Track Barrow to Penrhyn Tool Hire based at two depots in North Wales.
Richard Aitkinhead (Director) Penrhyn Tool Hire placed the order with David Salt of Blade Machinery after discussions with him on Blade's stand at the recent Executive Hire Show.
Richard bought his first TP680 in 2004, so after ten years of reliable and profitable service Richard felt it was time to replace it with a new machine.
The decision to buy a another Camisa TP680 was easy, after checking his machine records, Richard found down time and the cost of repair spares were minimal and customers requests for the machine showed they liked it and had confidence with the machine.
The original TP680 will be kept as a back-up machine for busy hire periods.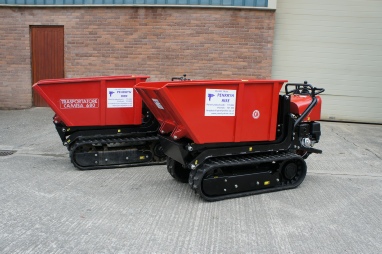 August 2014
Penrhyn Tool Hire purchase their second TP680 Track Barrow (August 2014) so popular with their customers the decision was taken to take delivery of a second TP680 Camisa Track Barrow.
August 2014
Back in production.
This newly manufactured blade fits all Kerbline & PM55HSP Turf Cutters, RRP £ 54.00 + Carriage and Vat.
To place an order e-mail: info@blademachinery.co.uk
Once again we have booked a stand at the 2015 Executive
Hire Show. After a fantastic debut at the 2014 show it was
an easy decision to re-book for the 2015 Event.
On display will be Bannerman lawn treatment equipment
including, aerators, Scarifiers, Top Dressers and a range of
Rakes & Drag Mats. These machines where well received at
last years show with a substantial order from a national hire
company along with sales on both days going to independent hire companies.
June 2015
David is greeted by Massimo Camisa on his recent visit to the Camisa factory to inspect the up-dated TP580 tracked dumper, an order was placed and the new TP580 a demonstrator will be available for inspection in the UK early August 2015.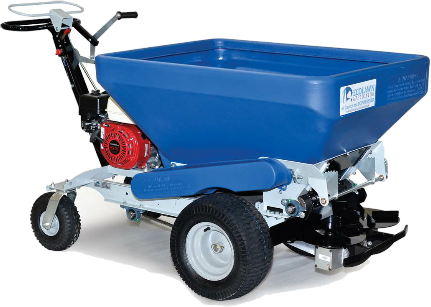 Once again we have signed to exhibit our range of Bannerman Professional Lawn Care Equipment at the Executive Hire Show held at the Ricoh Arena, Coventry CV6 6GE.
The Executive Hire Show takes place on the 8th & 9th February 2017.
Proud sponsor of the 2019
Lawn Care Association
Conference
30th & 31st January 2019
Proud sponsor of the 2020
Lawn Care Association
Conference
29th & 30th January 2020