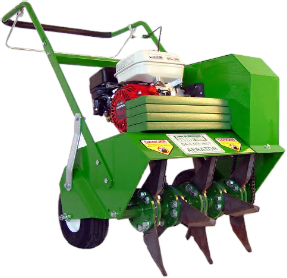 BA-4FT-H Fracture Tine Aerator
Powered by Honda GX120 petrol engine coupled to a 6:1 reduction drive, gives the unit a powerful and reliable drive system. Fitted with twenty drop forged fracture tines, the offset cutting action creates a slot in the turf to allow oxygen moisture and nutrients to enter the root zone without the problem of collecting cores from the surface. Fracture tineing also offers excellent soil de-compaction.
Regular aeration encourages the grass plant root system to grow deeper and stronger, by increasing the supply of oxygen, moisture and nutrients directly into the root zone, plus the ability to relive soil compaction, all the requirements needed to produce a beautiful and healthy lawn. The Bannerman BA-4 Air-ject Aerator is a commercial grade self-propelled, walk behind machine that can be fitted with three different tine configurations , Core, Fracture and Slitter plus an over-seeder Spiker tine reel.
BA-4CT-H Core Tine Slitter Tine Aerator
Power by Honda GX120 petrol engine coupled to a 6:1 reduction drive, gives the unit a powerful and reliable drive system. With the ability to fit either 1/2" or 3/4" closed core for hollow tine aeration, This reel can also be fitted with 3mm, 5mm or 8mm sliter tines.
B-LT-15-H Standard 15 blade Scarifier
Designed to provide an efficient vertical cutting action, to speedily remove dead plant material and other debris from the base of the grass plant. Fitted with 15 x 1.5mm offset blades the B-LT-15 has 30 cutting tips to reduce ridging and effectively prune the grass, reducing lateral growth whilst encouraging vertical re-growth.
B-GT-15-H Easy Access 15 or 27 Blade Scarifier
Limited access into many properties is an increasing problem, Bannerman have addressed this by adapting their B-GT-15-H to give it a maximum width of just 60cm whilst retaining the standard blade operating width of 44cm. Fitted with a front roller and inboard wheels, this allows the machine to be used along the edge of the lawn, thus not having to finish the edge with a rake.
BA-4M-CT,1/2" or 3/4" Easy Access Core Tine Aerator
This machine has all the engine and drive specification of the standard aerator, with the added advantage of being slightly narrower, allowing easy access into properties that have otherwise been difficult to access with a standard width aerator. Overall width is 60 cm.
B-MTD-SD Pedestrian Top Dresser
Virtually any area of natural grass can benefit from an application of good rich organic top dressing at least once a year. Designed to apply top dressing quickly and evenly to small to medium sized high wear turf grass areas and residential lawns. The spreading drum is wheel driven and has a spreading width of approximately 60 cm. Ideal for PAS100 soil conditioner.
Manufactured in their Rexdale, Ontario facility for nearly 50 years, the home of www.sportsturfmagic.com Gordon Bannerman Ltd. Aerators, Scarifiers and Top Dressers have been in use by many of the main national UK Lawn Treatment Franchises and Independent Lawn Care Professionals since 2000, proving to be a very reiable revenue earner.
Bannerman Drag Mats & Rakes
Bannerman Tractor Mounted