Bannerman Self Clearing, Steel Ski Rake
Self clearing Ski Rakes quickly and effortlessly collect scarification thatch into rows ready for bagging. Designed so that the rake head always stays on the ground, by drawing the rake towards you the thatch is collected, by pushing the rake away from you clears the thatch from the rake tines, this action also gives a secondary scarification to the lawn.
Ski Rakes with their 2.5mm Laser cut steel tines can also used as a manual scarification where powered machinery isn't cost effective.
Two sizes are available:
BMR-72 Large: 72cm with 40 laser cut & hardened steel tines 2.5mm thick.
BMR-58 Standard: 58cm with 32 laser cut & hardened steel tines 2.5mm thick.
Handle: 183cm (72") wooden handle.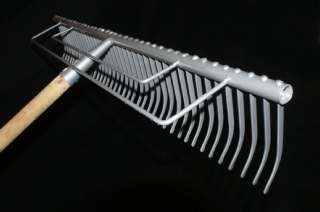 Bannerman All Steel Drag Mats
Bannerman's all steel Drag Mats, enable you to mat lawn and turf grass areas to break-up aeration cores, lightly level undulations and swirl in top dressing material, fitted with a heavy duty draw chain and alloy handle, enables the user to hand draw or tow behind any small turf vehicle, for ease of handling they can be "rolled-out" and "rolled-up" quickly.
Two sizes are available.
BMDM-3x4: 0.90cm x 120cm
BMDM-4x6: 120cm x 180cm
Back to Bannerman